We're a new Brighton based Design, Advertising and Marketing Consultancy with many years of top London agency experience, producing award winning work for a wide range of clients.
We've recently created Direct Marketing for IPC Magazines, Family Assurance, Something Special Villa Holidays and Gerrard, one of the country's largest investment management companies.
We've designed pension literature for The John Lewis Partnership, Prospectuses for local Brighton schools and Corporate Identities for businesses ranging from a Management Development Consultancy to a Sandwich Bar in the City of London.
We've written and designed Newsletters for Family Assurance and BPA an Oil and gas pipeline company.
We do photography. We do planning and research and we've even been known to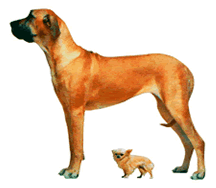 do lunch.
We're hungry for your design,
advertising or marketing brief - whether it's a Great Dane or a Chihuahua.
Call us on the bone or email us and we'll happily meet you for an informal chat.
We won't bite.